Goal Keeper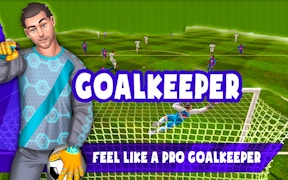 Goal Keeper
In the exciting world of kids sports games, one title stands out for its unique blend of action, strategy and pure adrenaline - Goal Keeper. This is not just another addition in the long list of soccer or football games for kids. The Goal Keeper game provides an exhilarating journey into the thrilling world of football, captivating young minds with its captivating visuals and engaging gameplay.
Goal Keeper puts you right in the center of the pitch, in a position that carries immense responsibility - the goalkeeper. The aim is simple yet challenging: prevent the ball from crossing your line at all costs. Every great save equates to points and each miss draws you closer to defeat. You are allowed only three mistakes before it's game over, hence making every move count is vital.
The game begins at a relatively relaxed pace, allowing inexperienced gamers to get a feel of the controls. But don't be fooled! Gradually, as you progress, the speed of incoming balls intensifies taking your reflexes and skills to their limits. The increasing pace not only adds a layer of challenge but also ensures that boredom never creeps in.
What sets Goal Keeper apart in the arena of soccer games for kids, is its potent mix of fun and challenge. It doesn't overwhelm with complicated controls or convoluted rules. Yet, it doesn't shy away from pushing kids to improve their hand-eye coordination and decision-making abilities under pressure.
The true beauty of this football game for kids, however, lies in its perfect balance between entertainment and learning value. It manages to subtly teach children about team roles and strategy while delivering an engaging gaming experience. Embrace this remarkable journey into football with Goal Keeper.
What are the best online games?