Gluttonous Giraffe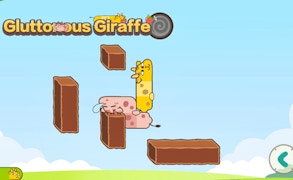 Gluttonous Giraffe
Immerse yourself in the animal kingdom with Gluttonous Giraffe, a thrilling addition to the pantheon of arcade games. Quench your thirst for tantalizing and titillating gameplay with this riveting entry in the domain of animal-games.
This is not merely child's play. It demands more than reflex ability; it requires foresight, strategy, and the ability to think on your (webbed) feet! If you've got a knack for skill-games, this riveting giraffe romp might just be your new favorite.
As you zigzag through a maze of obstacles, your giraffe avatar gobbles up everything in its path. It's eerily reminiscent to popular snake-games, but with a cute and quirky spin. The more you consume, the longer your giraffe's neck extends – a delightful detail that adds both challenge and charm.
No two gameplays are ever alike in Gluttonous Giraffe. Just as you start feeling at home amidst the game's vibrant graphics and whimsical sounds, another level ups the ante! It keeps you hooked; pushing you to beat your high score just one more time...
The controls are smooth and intuitive, ensuring that anyone can jump right into the action. This accessibility combined with its addictive gameplay mechanics makes Gluttonous Giraffe an irresistible attraction.
Incredible visuals, engaging gameplay, and an out-of-the-box concept make Gluttonous Giraffe an arcade gem worth exploring. So step into this fantastical world of fun now – and prepare to stretch your gaming skills to new heights!
.
If you're looking for a game that combines cleverness and charm with quick-thinking action, Gluttonous Giraffe is a savannah of joy ready for you to explore. Try it now and see how long you can make your giraffe's neck reach before you get yourself cornered!
What are the best online games?