Geometry Gunner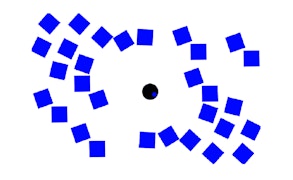 Geometry Gunner
Description
In the thrilling arcade game Geometry Gunner, you are tasked with outsmarting and outmaneuvering an onslaught of aggressive geometric enemies. The enemies, in the form of squares, speed towards you with increasing intelligence and speed as you progress through the levels. You must remain nimble and strategic, gunning them down before they can reach you while simultaneously avoiding their attacks. The game morphs into a frenzied dance of survival requiring both agility and precision.
How to play
To control your character, use the WASD keys. This allows for movement around the screen to evade incoming enemy squares. To attack, use your mouse to aim at the squares and shoot them down before they make contact with your character. The key challenge lies in evading incoming attacks while precisely aiming at your enemies. Fast reaction times and strategic thinking are imperative for escaping unscathed.
Tips and Tricks
Keeping moving is vital in Geometry Gunner. Don't stay in one place for too long as enemy squares become more efficient in their attacks over time. Always aim for groups of squares for maximum points and be on the lookout for power-ups that can boost your capabilities.
Features
Dynamic gameplay requiring both strategy and agility.
Ramping difficulty as enemy squares become faster and more intelligent.
Frequent power-up opportunities to enhance gameplay.
Intricate graphics with engaging geometric enemies.
What are the best online games?