Garden Tales 3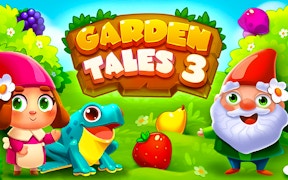 Garden Tales 3
Calling all enthusiasts of Games for Kids, lovers of cerebral challenges, admirers of Brain Games, and aficionados of Match 3 Games. Welcome to the enchanting universe of Garden Tales 3, an enthralling puzzle game that effortlessly mingles whimsical fun with keen strategic planning!
Garden Tales 3, the much-awaited third installment in the beloved Garden Tales series, has set new standards in Match 3 gameplay. Ready yourself for a remarkable journey through over 3,000 levels, each more captivating than the last. Crafting an engaging narrative around your gnome friend, Willy, the game beautifully intertwines storytelling and puzzle-solving like never before. Your mission? To assist Willy in keeping his magical garden verdant and free from pesky weeds.
As you navigate your way through this enchanting garden wonderland, you'll need to collect flowers, fruits, and mushrooms in carefully planned sequences. The game rewards sharp strategic thinking – the more florals and fruits of the same kind you match-3 together, the cooler the bonuses that await! Stunning extras abound for those capable of crafting grand combos – an admirable incentive to keep your brain cells buzzing!
Adding to its charm is the catchy soundtrack that sets a perfect tempo for this garden adventure. Lively yet calming tracks play in harmony with the on-screen action adding another layer of immersion.
In conclusion, Garden Tales 3 is a triumphant fusion of fun-filled gameplay and stimulating puzzles that makes it a must-play title within its genre - whether you're seeking games for kids or captivating brain games. Ready to show off your match-3 prowess?
What are the best online games?
Tags