Garden Tales 2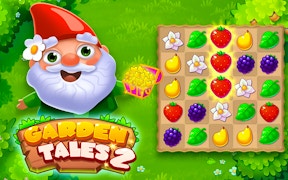 Garden Tales 2
Embark on a delightful journey in the enchanting world of Garden Tales 2, a jewel in the crown of match 3 games and an absolute delight in the realm of Games for Kids. It's more than just a game; it's an incredible adventure that invites you to dive into a sea of vibrant fruits, captivating puzzles, and melodic tunes.
As the highly desirable sequel to the first Garden Tales, this game is like a blossoming flower, offering refreshing new levels that surpass its predecessor in every aspect. If you savoured every moment of the original game, prepare to have your expectations exceeded with Garden Tales 2.
This game is like a ripe fruit for those seeking an escape from their bustling life. Whether you've had a tireless day at work or need to find solace away from your daily worries, Garden Tales 2 provides an elixir for your mind. Its eager-to-please graphics and buoyant tunes are the cherries on top of this delicious gaming experience.
The addictive gameplay remains true to its match 3 roots while embracing new elements that breathe fresh life into this timeless genre. It's as invigorating as plunging into a pool on a scorching summer day, making it the perfect antidote for boredom.
In the beautiful garden of match3 games, Garden Tales 2 stands tall like a sunflower among daisies. It effortlessly encapsulates what makes match 3 games so mesmerizing yet adds its own unique flavour in the mix. For those who are seeking joyous and fun-filled moments- whether young gamers or just young at heart- this charming puzzler is undoubtedly one of the best Games for Kids.
So why wait? Experience this delightful world filled with juicy fruits and invigorating gameplay now! Play Garden Tales 2 - it's free, it's fun, and it's waiting for you!
What are the best online games?
TAGS