Garbage Sanitation Truck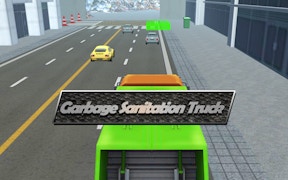 Garbage Sanitation Truck
Welcome to the world of exciting driving games and embrace the opportunity to get behind the wheels of a garbage sanitation truck. In the unique racing genre game, Garbage Sanitation Truck, you are not just racing against time, but practising an essential civic duty.
Unlike typical racing games, this journey will take you through the industrious services of sanitation and immerse you into the life of a trash hauler. No longer are these heavyweight champions unseen, now they're in your control, ready to hit the roads for an extraordinary ride.
For all those who have fancied driving a colossal machine amidst city traffic, Garbage Sanitation Truck is an absolute thrill amongst truck games. Commanding such a gigantic vehicle requires skill and precision. This is where it transitions from being merely one of those simulator games into the challenging realm of Skill Games.
Dexterity and vigilance are vital, as you navigate through intricate alleyways to reach your trash bins. Once loaded, scuttle across city streets to the refuse processing grounds whilst ensuring not to crash with any other vehicles. It's more than just an ordinary ride; it's an interplay of alertness and accuracy.
In its own peculiar way, Garbage Sanitation Truck does not shy away from being one-of-a-kind in parking games. Each level demands precise parking maneuvers to ensure safe pick-ups and disposals. This interesting twist adds an extra dash of excitement, keeping players on their toes at all times.
In conclusion, Garbage Sanitation Truck merges various appealing aspects of truck games, driving games and simulator games while brilliantly incorporating challenges from skill-based and parking games. It's more than just a game; it's a thrilling experience that exhibits mundane real-life tasks in an intriguingly playful manner.
What are the best online games?