Funny Shopping Supermarket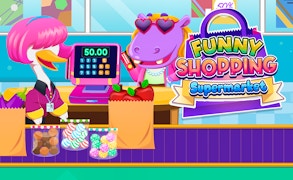 Funny Shopping Supermarket
Description
Dive into a world filled with fun and excitement in Funny Shopping Supermarket. Join Hippo and his friends as they navigate the store in search of items on their shopping list. From candies to carpentry tools, this supermarket has everything! But your task isn't done until you've paid for the items at the cashier! This game combines learning and entertainment in one package, perfect for young kids.
How to play
Playing Funny Shopping Supermarket is simple. Move Hippo through the aisles, find the items listed on your shopping list and click on them to add to your grocery bag. Once done, steer Hippo towards the cashier to complete the purchase. With each level, the list gets longer making it more challenging.
Tips and Tricks
To excel in this game, remember that speed is key. Keep an eye on your shopping list and plan your route around the supermarket efficiently. Also, don't forget about paying at the cashier - it's an important part of completing each level!
Features
Variety of Products: Everything from clothes to fruits, meats, vegetables, and more!
Achievements: Unlock achievements for added fun and challenges.
Learning Experience: A perfect way for children to learn about shopping while having fun!
Cute Characters: Enjoy playing as lovable Hippo and his friends.
What are the best online games?