Funny Ragdoll Wrestlers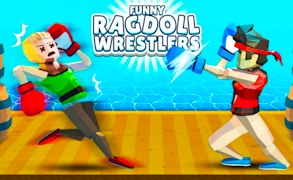 Funny Ragdoll Wrestlers
Do you enjoy the quirky blend of boxing games and stickman games? Then look no more! "Funny Ragdoll Wrestlers" is the new gaming sensation you just can't resist. This lively battle game will challenge your agility, strategy, and motor skills in a series of unpredictable wrestling matches.
In the heart of this playful fight lies the Funny Ragdoll Wrestlers. This exhilarating game offers both single-player and two-player modes – perfect for challenging yourself or sparring with a friend. So, go ahead, grab your controller (or friend), fire up the console, and embark on an epic clash of ragdoll titans!
The rules are simple yet gripping – The first player to score 5 wins commands the game. But make no mistake, this isn't your run-of-the-mill arcade brawl. Every fight is a roller coaster ride of upswings and downswings that keeps you on your toes. The ragdoll physics add a unique twist of unpredictability to each duel, elevating this game into a league of its own.
Looking for an exciting addition to your collection of 2 player games? Invite a friend over for some gaming fun before starting the match - Double the players means double the fun! In conclusion, if you're after an engaging combination of strategy and spontaneity — Funny Ragdoll Wrestlers provides it in full measure.
So spar away in this fascinating stickman universe – where every blow counts, every manoeuvre matters, and every battle brings the thrill that keeps you coming back for more!
What are the best online games?