Fruit Mega Slots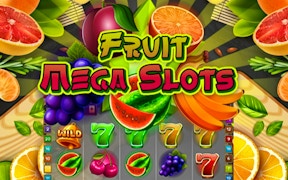 Fruit Mega Slots
Step into the scintillating world of arcade games with this thrilling, fun-filled enthralling game, Fruit Mega Slots. It's an addictive, non-stop extravaganza combining the best of casino games and slot games that keeps you on the edge of your seat. This engaging, action-packed game is the perfect remedy for your gaming cravings.
Brightly colored fruits and vibrant animations provide a visually stunning landscape to engross your senses in Fruit Mega Slots. The vivid, high-quality graphics are indeed a visual treat. The catchy background score and realistic sound effects complement the theme perfectly, giving you an authentic casino feel right on your device.
The core gameplay revolves around spinning deliciously animated fruit symbols with a simple click. It's easy to learn and play but hard to master. The thrill begins by making a bid; risk it out with higher stakes or play safe with smaller ones. Then hit the spin button or ease the tension with the auto spin feature - either way, prepare yourself for a rollercoaster ride of fun!
Winning bones and ascending through bone levels adds another layer of excitement to this already exhilarating game. Every win brings you closer to unlocking new achievements and rewards in this fun game that never fails to impress.
Apart from its ecstatic gameplay, Fruit Mega Slots also offers incredible conveniences for a seamless gaming experience. Your progress is saved automatically so you can pick up where you left off anytime. What's more! It's free to play and doesn't require any subscription - just download and start spinning!
In conclusion, Fruit Mega Slots is all about pure arcade fun at its finest! Feel the adrenaline rush as you place bets and spin your way to victory delectably surrounded by everybody's favorite fruits in this stellar slot game that will keep coming back for more.
What are the best online games?