Fruit Doctor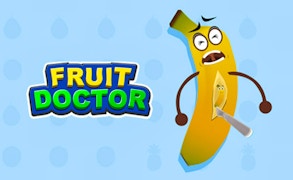 Fruit Doctor
If you've ever wondered what it's like to play doctor, but for fruits and veggies, then Fruit Doctor, the latest in operation games and simulator games, is the perfect fit for you. This whimsical yet challenging puzzle game takes an unexpected turn by bringing the joys of healthcare to our favorite plant-based friends.
As one of the standout operation games on the market, Fruit Doctor tasks players with overcoming a myriad of unique challenges. Engage your creative problem-solving skills as you aid eggplants in giving birth or meticulously suture an injured banana back to health.
The Funfactor is high in this game. As a food surgeon, you'll be required to employ precision and quick thinking in order to properly diagnose and treat your fruity patients. The sheer variety of ailments that these plant patients present with makes for a continually refreshing gameplay experience.
Fruit Doctor isn't just about fruit; it's a blend of operation games and simulator games that pushes the boundaries of both genres. With a wide range of tools at your disposal, you're not simply slicing into fruits – you're engaging on a journey to help them heal.
In terms of design, Fruit Doctor shines in its simplicity and colorful graphics which add an inviting and jovial quality to this surgical adventure. Also, unmatched creativity puts it above many other simulator games I've had the pleasure to review.
In conclusion, if you're looking for something new within the realm of puzzle gaming, operation games, or simulator games—Fruit Doctor is ripe for picking. This innovative title offers rewarding gameplay that will entertain and challenge players time and again.
What are the best online games?