French Apple Pie - Cooking with Emma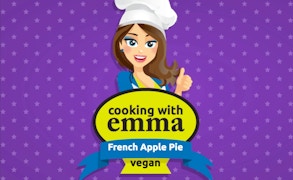 French Apple Pie - Cooking with Emma
Step into the flavorful world of "French Apple Pie - Cooking with Emma," a riveting cooking puzzle game that offers an authentic taste of cuisine straight from France. A delightful addition to the array of games for girls, this game adds a delicious twist to the classic genre of cooking games.
Follow Emma's journey as she concocts the traditional French Apple Pie, guiding gamers through an illuminating culinary process. Designed for cooking aficionados and puzzle enthusiasts alike, it's a game that skillfully combines strategic thinking and culinary creativity. It's not just about assembling ingredients; it's about understanding recipes, perfecting timing, and tasting victory in every bite.
The game's protagonist, Emma, is a masterful chef who narrates each step with an infectious enthusiasm. Following her instructions isn't just fun; it's insightful too! She will divulge all her secrets to making that perfect apple pie, leaving players not only entertained but also equipped with a genuine recipe by the end!
"French Apple Pie - Cooking with Emma" is more than just a simple puzzle or cooking game — it's a fusion of both that opens up a world of fun gameplay and culinary adventure. Girls seeking a delightful mix of puzzles and cooking will find this game irresistible. It's one part strategy, one part culinary arts... and wholly addictive!
In summary, "French Apple Pie - Cooking with Emma," is an interactive experience that beautifully captures the essence of French cuisine while delivering puzzling gameplay all wrapped up in one tasty package – making it the perfect entrée in games for girls.
What are the best online games?