Freecell Solitaire Deluxe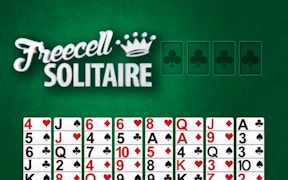 Freecell Solitaire Deluxe
Description
Enter the world of strategic gaming with Freecell Solitaire Deluxe. This rendition of the classic solitaire game, takes your card playing skills to the next level. Organize your deck into the foundation stacks and free up your freecells to win the game. Show off your strategic prowess, patience, and planning in this timeless classic.
How to play
Simply drag and drop cards of descending order and alternating color into the tableau. The goal is to organize all cards into four foundation stacks, each representing one suit, in ascending order from Ace to King. Use freecells located at top left as temporary storage for cards while making moves. Last but not least, remember that only one card can be moved at a time!
Tips and Tricks
Plan ahead! In Freecell Solitaire Deluxe, rushing may lead to a dead-end game. Think multiple moves forward before executing any maneuvers. Try to keep as many freecells open as possible for flexibility, and prioritize moving cards to foundation stacks for a smooth gameplay.
Features
Absolute Classic: Experience traditional solitaire with a twist.
User-friendly Interface: Enjoy easy drag-and-drop controls.
Mental Workout: Provides an excellent mental exercise.
Pure Strategy: No luck involved - every game can be won with the right moves!
What are the best online games?
Tags