Four Colors Multiplayer Monument Edition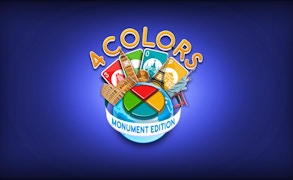 Four Colors Multiplayer Monument Edition
Description
Dive into the monument-themed version of the popular card game, Four Colors Multiplayer Monument Edition. In this colorful and captivating game, players match their cards by color or number in a fast-paced strategic showdown. The goal of the game is to run out of cards before any other player does, adding an exciting element of speed and strategy to each round.
How to play
Using your mouse, select a card that matches the color or number of the last card on the discard pile. If there are no matching cards in your hand, pick a card from the draw pile. The first player to have no cards left is crowned as winner! With each victory comes increased difficulty and strategic depth, leading to endless fun.
Tips and Tricks
Think ahead! Strategize which cards to play - sometimes it's best to hold onto high-numbered or special cards for later in the game. Keep in mind colored cards control what color gets played next. Use these strategies to ensure you're always one step ahead.
Features
Crisp Monument themed graphics enhancing gaming experience.
Captivating multiplayer mode for maximum enjoyment with friends.
Challenging AI for single-player mode providing tough competition.
Fast-paced gameplay promoting quick thinking and strategizing skills.
What are the best online games?