Fort Craft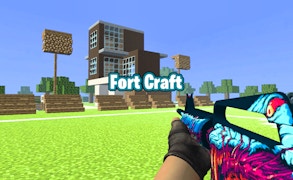 Fort Craft
Description
Welcome to the vibrant world of Fort Craft, where shootouts and survival meet creativity and strategy. In this thrilling multiplayer online role-playing game, you'll wage war against other players across a pixelated landscape, striving for ultimate victory. Arm yourself with various weapons and assert dominance over your opponents while maneuvering through the dynamic, minecraft-inspired terrain. With each passing round, RPG elements will heighten your odds of coming out on top!
How to Play
Navigating through Fort Craft's world is simple yet engaging. Move your character using the arrow keys or WASD controls. Left click to fire your weapon at opponents and eliminate them from the match. Rack up as many kills as possible before the round ends to secure victory. Progress in Fort Craft by winning matches and gaining experience points to upgrade your equipment.
Tips and Tricks
Mastering Fort Craft requires a blend of offense and defense tactics. Ambushing opponents may yield quick kills, but remember - staying mobile will make you a harder target! Use the game's RPG elements wisely—invest in powerful upgrades for greater survivability and firepower.
Features
The game comes packed with features:
Minecraft-inspired graphics creating a unique blend of creativity and combat.
Variety of weapons to choose from, each providing distinct combat advantages.
RPG progression system that rewards kills with experience points for equipment upgrades.
Multiplayer functionality that allows for engaging battles with players worldwide.
What are the best online games?