Forest Adventure Match 3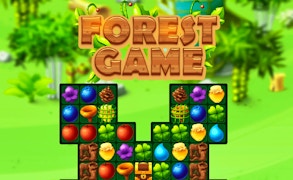 Forest Adventure Match 3
Description
Embark on a charming journey with Forest Adventure Match 3. An enchanting match-3 puzzle game that takes you through serene forest paths, solving a multitude of captivating levels. Each level is packed with vibrant elements and clever combinations, ensuring you stay engrossed in the game while nurturing your logical thinking abilities.
How to Play
To start playing, simply swap adjacent elements to create a match of three or more similar items. With each successful match, you progress forward in the game. The game requires strategic planning to clear challenging levels. To win, you need to complete each task within the given number of moves.
Tips and Tricks
To advance quickly through the levels, aim for matches that result in special elements. These allow for multiple eliminations in one move! A keen eye and quick decision-making are your best assets as higher levels introduce more complex tasks to challenge your skills.
Features
Vibrant Graphics: Bright and colorful visual elements enhance gaming experience.
Intriguing Levels: Dozens of thoughtfully designed levels keep the gameplay interesting.
Kid-Friendly: The game offers kid-friendly design and interface.
Mind-Engaging: The puzzle-solving element helps enhance cognitive abilities.
What are the best online games?
Tags