Footgolf Evolution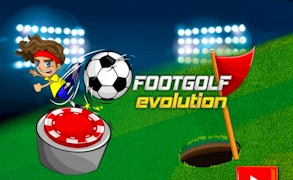 Footgolf Evolution
Welcome to the intriguing world of Footgolf Evolution, an innovative synthesis of golf games and football games that throws the ordinary out of the window. This isn't your grandpa's ball game—it's something different, something you've never seen before!
The creators ask a daring question, "Who said that golf and football can't be mixed together?" And they answer it by providing an incredible experience that doesn't just blend these two popular sports but redefines them in an entirely exciting way.
Golf games are known for being calm and collected, but in Footgolf Evolution, you'll be playing under pressure, aiming those perfect shots across 24 unique and challenging holes. The soccer games DNA adds another layer of excitement as you'll also need to maneuver around an array of strange obstacles—a testament to gameplay ingenuity.
Think about dealing with penalties in football games or taking long drives on a golf course—all in one compact package. You can almost feel the dewy grass under your digital shoes and the swift breeze as you aim your shot, embodying sportsmanship at its finest.
It's not just a ball game—it's the evolution of two sports that have been loved for generations. It's concentrated passion dripping from every pixel. You feel the rush of victory with every accurate shot you make, which is amplified by the challenging obstacles making it more than just a basic soccer game. It takes strategy derived from golf games and combines it with high-paced intensity found in football games.
Footgolf Evolution is not only a game—it's an experience that will keep you coming back for more! For anyone who enjoys sports, this isn't just another game on your list; it's a must-try!
What are the best online games?