Football Master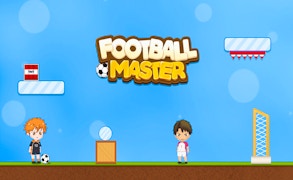 Football Master
Description
Dive into the thrilling world of Football Master, a unique game that blends the fun of ball games and soccer games. Strategically aim and shoot balls at your opponents while circumventing various obstacles. The dynamics constantly shift, keeping you on your toes. Experience the fusion of physics, strategy, and imagination as you navigate through exciting levels.
How to play
Your mission in Football Master is to hit your opponent with balls. To do this, you'll need to overcome various obstructions on the field. The game's interface allows for easy control, as all actions are performed by clicking and dragging the mouse. Experiment with angles and force to achieve the best shots. Repeat levels to improve scores and refine strategies.
Tips and Tricks
Remember that mastering Football Master involves understanding physics dynamics. Use obstacles to your advantage - a well-angled shot could result in a rebound hit against your opponent. Be patient, refine your strategies with every replay, and don't forget that creativity often pays off in unexpected ways!
Features
Vibrant interface with intuitive controls for easy playability
A diverse range of obstacles ensuring engaging gameplay throughout
The opportunity to test skills like problem-solving, strategic planning, and understanding real-world physics
The ability to replay levels for better score optimization and strategy refinement
What are the best online games?