Football Legends 2021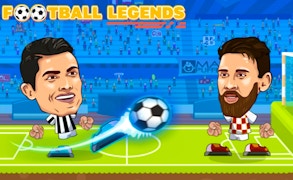 Football Legends 2021
Kick off your athletic gaming year by diving into the fantastic world of Football Legends 2021 – a game that skillfully merges the love for soccer games, ball games, and football games into an immersive gaming experience. Energize your competitive spirit, get ready for a gripping digital duel and take control of your favorite player in this compelling 2 player game.
This visually stunning game transforms you from a mere spectator to an active participant in an adrenaline-fueled football tournament. Choose from a wide array of teams and join the battle for the title. Strategically maneuver your player, outsmart your opponents, and score those electrifying goals. Whether you're playing solo against AI or pairing up with or against a friend, Football Legends 2021 ensures an unparalleled soccer showdown.
The gameplay is smooth and intuitive – easy to pick up yet delightfully challenging to master. The keen attention to detail in Football Legends 2021 shines through in every match, adding authenticity to your virtual soccer stint. The rush of taking that decisive penalty kick in front of roaring digital crowds is truly thrilling.
Affirming its position as one of the must-play soccer games, this gem caters not only to soccer fanatics but also to casual gamers wanting some action-packed 2 player games. So dust off those gaming skills, rally your team, and embark on a quest for glory with this impressive football endeavor. It's high time you added Football Legends 2021 to your sporty gaming roster.
In conclusion, if you're searching for the perfect blend of strategy, competition, and raw football fervor, look no further than Football Legends 2021. It's not just about winning; it's about becoming a legend! Gear up for this epic ball game journey and show the world what it means to be a true Football Legend!
.
What are the best online games?