Football Killer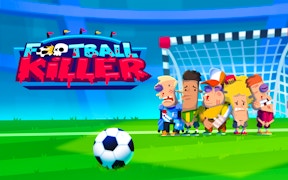 Football Killer
Ever craved the rush of stepping onto the turf as a professional footballer, strategizing your next move, and outsmarting your opponents? If you've nodded in agreement, then Football Killer, a perfect mix of football games and battle games - is just the game that awaits you. It's not just about the thrill of football, it's about survival - making it a perfect blend of all your favourite genres - ball games, survival games and yes, fun games too!
In Football Killer, you're not just a mere participant in the game; you're embroiled in a deadly face-off against other footballers, referees and goalkeepers - all hell-bent on seeing you suffer. The rules are dismissed as fearsome opponents are fully aware of your illustrious past and they quiver with fear!
As you traverse through cool different levels, each uniquely challenging and stimulating as compared to the last. You get to demonstrate your shooting prowess and strategic wits. Uniquely enough, the referee remains untouchable - adding a strategic twist that keeps things fresh in this blend of football games and battle games.
Accompanied by engaging graphics, Football Killer immerses you into the heart-pounding atmosphere of a grand football stadium. The exhilarating music takes it up another notch, keeping your adrenaline pumping as you strive for victory in one of the most fun games around.
Football Killer, as evident from its title provides an uncanny take on traditional ball games while successfully blending elements from survival games. This allows players to experience an immersive gameplay full of thrills, kills and spills!
Whether you're a football enthusiast or someone who enjoys engaging battle mechanics wrapped in high-tension survival gameplay - Football Killer is clearly amongst those fun games that deliver on all fronts! Strap on your boots and prepare yourself for an unforgettable football adventure today!
What are the best online games?