Football Flick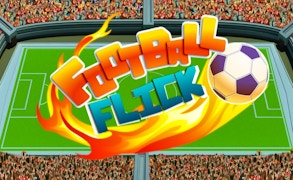 Football Flick
Prepare yourself for a thrilling journey into the world of sports, specifically football games, as I introduce you to the exceptional gaming experience that is Football Flick. A sensation in the realm of ball games that captures the spirit and excitement of soccer games in a unique and captivating way.
Football Flick fields a dynamic roster of 12 enticing football stars, ready to give you a run for your money in heart-stopping one on one matches. This isn't merely about winning, but rather playing smart and strategizing every flick of your finger to outmaneuver your opponent. It's time to sharpen those skills, step onto the pitch, and prepare for an epic showdown.
The game offers an immersive experience that transports you straight to the heart of football stadiums packed with cheering crowds. Savor those moments when you outwit your rival and score incredible goals. This isn't just an ordinary addition to the pool of soccer games; it's a ticket to addictive gameplay where every victory tastes even sweeter than the last.
One of the greatest features in Football Flick is its realism; both on-field action and player movements replicate the intensity and precision seen in real-life matches. The graphics are simply outstanding; vibrant colors, detailed player models, coupled with smooth animations make it one of the top-notch ball games out there.
All this combines to make Football Flick standout from other football games; it's a visceral gaming experience that will have you hooked from your very first match. By offering great graphics, engaging gameplay, and an all-round exciting football scenario, it beckons all sports enthusiasts seeking new challenges.
In conclusion, Football Flick is more than just a game; it's a testament to the exhilarating world of football that rewards not only technique but also quick thinking. It truly captures what makes soccer games so appealing - where every goal scored feels like a personal triumph.
What are the best online games?