Football Brawl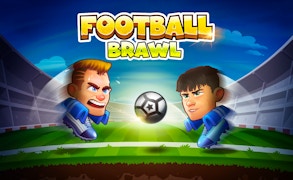 Football Brawl
Description
Dive into the thrilling world of Football Brawl, an enthralling football game that packs an adrenaline-pumping punch. Unleash an assortment of powerful kicks and utilise unique powerups to gain the upper hand on your opponent. With a dynamic field setting, this game not only tests your football skills but also your strategic ability. Flex your sportsmanship with the in-game emotes system, letting you flaunt your victories in style.
How to play
The controls are simplified for everyone's enjoyment - maneuver your player using arrow keys or WASD keys, and use space bar for executing different kicks. Collect powerups that appear randomly on the field to enhance your gameplay. Your progress depends on the number of games you win. Remember, the key is not just about scoring goals but also outmaneuvering and overpowering the opponent.
Tips and Tricks
Predicting your opponent's move will give you an edge in this game. Collect as many powerups as possible; they can drastically turn the tide of a match. Always keep moving and vary your kick styles to keep the opponent guessing. Use emotes wisely; it could work as a great psyche-out tactic.
Features
User-friendly controls: Simple and responsive keyboard commands.
Variety of Powerups: Powerups that add suspense and unpredictability to every match.
Skill-focused Gameplay: A blend of strategy, skill, and luck offers a unique experience each time.
Emotes System: Express yourself on the field with a range of emotes.
What are the best online games?