Foosball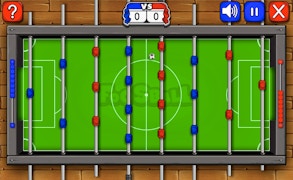 Foosball
Welcome to our review of the latest sensation in the sports gaming world: Foosball. This exceptionally entertaining HTML5 sports game taps into the heart of both 2 player games and soccer games, blending them into a perfect mix that will keep you glued to your screens for hours.
This amazing game is articulate in its design and gameplay. It relies on a simple, yet captivating concept: the classic game of foosball brought to your digital screens with an interactive twist. Play against an intelligent CPU, or challenge your friends in an enthralling face-off.
The charm of Foosball lies not only in its engaging two-player mode but also in its competitive 'Scrimmage' and 'Championship' modes. For those who relish a head-on battle, Scrimmage offers a thrilling one-off bout of nail-biting football. For those with an appetite for a prolonged thrill - a compelling narrative, sweating it out on the field before raising that hard-earned trophy - the Championship mode emulates perfectly the tension and victory rush of a real-life soccer tournament.
Foosball has truly broken barriers by bringing together fans of soccer games and 2 player games into one common platform where they can truly enjoy their passion for sports gaming. With its easy-to-use controls, immersive gameplay, and competitive aspects, Foosball stands as a testament to what sports games can achieve when seamlessly blending simplicity with high-stakes competition.
So grab your soccer boots (virtually, of course) and get ready for some intense 2 player action. Whether you're looking to kill some time or striving for digital glory in the championship mode, this game is sure to quench your thirst for fun-filled soccer gaming. Foosball is an experience not to be missed!
+
What are the best online games?