Flying Police Car Simulator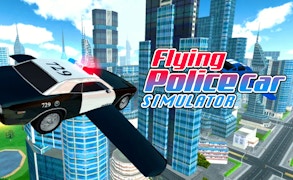 Flying Police Car Simulator
If you've ever dreamed of forgetting the limitations of roads and taking your driving skills to new heights, then Flying Police Car Simulator is a game you can't afford to miss. This 3D sensation is not just one of the usual driving games, it's a fusion of racing and flying that leaves other car games look ordinary.
The first thing you'll notice about Flying Police Car Simulator is the sheer uniqueness of its gameplay. For fans of flying games, it takes the concept to new levels - literally, as instead of planes or spaceships, you're behind the wheel of a flying police car. Filled with towering skyscrapers that will test your flying and navigational prowess to its limits, this game is not afraid to challenge even the most experienced gamer.
One main aspect where this game truly excels among other simulator games is its intricate map design. The Police City isn't only densely packed with skyscrapers, but also hosts an airport that's not linked via main roads making it an adventurous journey every time you touch down or take off.
The game dares you to unlock the secrets hidden within the Police city. High-rise jumps, coin collection missions and secret islands await brave navigators willing to explore every block and alleyway at breakneck speeds.
Beyond being just one of many police games, Flying Police Car Simulator offers a fresh take on skill games. It constantly keeps players on their toes by integrating survival elements such as fuel management and water obstacles which can set back your progress dramatically.
If all these weren't thrilling enough, there's still more to find out in this intriguing world. An uncharted island lies on the horizon just waiting for explorers brave enough to soar through the sky towards it. Remember though: time waits for no one here! So buckle up - there's a whole new dimension in skill-based driving waiting for you in Flying Police Car Simulator.
What are the best online games?