Flying Car Driving Simulator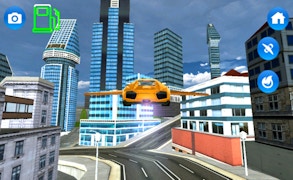 Flying Car Driving Simulator
Set your eyes on the horizon and fire up the engines as you take to the streets and skies in the revolutionary Flying Car Driving Simulator. This game quenches your thirst for both driving games and flying games, blending them seamlessly into one exhilarating experience.
Packed with riveting missions that challenge your driving and piloting abilities, this game is a testament to the evolution of car games. From high-octane races to daring rescues, you'll find yourself at the edge of your seat more often than not. It doesn't stop at driving; you'll also have the privilege of flying a Lamborghini amongst the clouds, establishing this game as a cordial invitation to adrenaline addicts.
Beyond its heart-pounding missions, Flying Car Driving Simulator's strength lies in its unwavering commitment to authenticity. As one of the best simulator games, it gives players an unrivalled sense of control over their vehicle, both on land and in air. Each rumble of the engine, each shift of gear gives testament to its ultra-realistic approach.
Apart from traditional races, the game features inventive quests like chasing thieves or following celebrities, giving it an edge in the realm of Skill Games. Whether it's weaving through traffic or soaring towards towering skyscrapers, it proves time and again that it's more than just a racing game.
Finally, rewards come in form of cash earned in-game which can be spent on upgrades for your flying car or even getting new ones. This incentivizes playing more and achieving higher scores. Take off into an immersive adventure with Flying Car Driving Simulator - it's not just about racing; it's about conquering both roadways and airways. With every turn taken and altitude reached, this game redefines what a racing simulator can be.
What are the best online games?