Floor Jumper Escape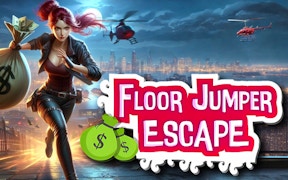 Floor Jumper Escape
Get ready for an adrenaline-fueled experience with Floor Jumper Escape, a thrilling addition to the plethora of arcade genre games. It's not just a game, it's a breathtaking test of wit, timing, and determination that mixes elements of escape games, skill games, police games, and gangster games to deliver an unbeatable blend of risk and reward.
Amp up your gaming session as you aid the protagonist, a skilled thief, in his exhilarating escape from the relentless police. Floor Jumper Escape feels like a tantalizing dance between the cunning gangster and the unyielding law enforcement. It encapsulates the essence of survival games by rewarding players not just on brute force or speed, but rather on their ability to strategize under pressure.
The premise is simple – jump and climb to outwit your pursuers. However, the execution is everything but easy. With every floor ascended, you'll find your heart pounding in your chest as if matching the pace with this fast-paced thrilling game. Don't let the simplicity fool you; this game is a gem within the arcade genre that tests your agility and decision-making skills to their very limits.
A conclusion is evident here – in Floor Jumper Escape, there are no weak links. The compelling visuals coupled with the gripping storyline make this game an addictive indulgence. The added focus on strategy over brute strength strikes a perfect balance that will keep you hooked.
If you fancy yourself as one who enjoys outsmarting opponents whilst under pressure of time, then dive into the world of Floor Jumper Escape. Get ready for an adventure where every jump could be your last, but every successful escape means sweet victory!
What are the best online games?