Flippy Journey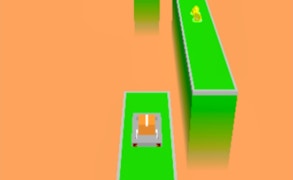 Flippy Journey
If you're a fan of car games and hyper casual games, then prepare to buckle up for an exhilarating ride in the new arcade game, Flippy Journey. This endless level-base game creates an addictive cocktail of thrill and excitement, guaranteed to keep your adrenaline pumping.
In Flippy Journey, the controls are as straightforward as they come. But don't let that fool you! Pressing the left arrow key flips the player left, while the right arrow key flips them right - but mastering their timing can be trickier than you'd think. Your mission? To navigate through a labyrinth of heart-stopping obstacles and traps on a quest to reach the end of each level.
The game offers the pure joy of an arcade game: quick, uncomplicated gameplay full of colorful platforms that test both your reflexes and your strategic insight. Unlike some car games that may feel repetitive after a while, Flippy Journey breathes life into every level with its dynamic variety of platform styles and skins - all unlockable by collecting coins scattered throughout your journey.
What sets Flippy Journey apart from other hyper casual games is its ability to hook players through its simplicity while offering layers of complexity underneath. Whether it's trying to time your flip perfectly to avoid an oncoming trap, or maneuvering swiftly to grab those elusive coins for unlocks, Flippy Journey continually throws curve balls that keep gamers on their toes.
In conclusion, if you're seeking an arcade experience that fuses action-packed gameplay with astutely designed challenges, then we highly recommend checking out Flippy Journey. With its nerve-wracking traps and enticing rewards system synonymous with top-tier car games and hyper casual games alike, it's clear that this game is on track for success.
What are the best online games?