Flag Quiz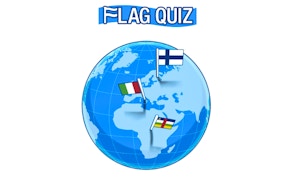 Flag Quiz
For those with a penchant for trivia games, an insatiable curiosity about countries, and an uncanny ability to recall ephemeral details, our review of the Flag Quiz game will surely pique your interest.
In the vast realm of brain games, Flag Quiz holds a unique spot by offering a creative blend of knowledge testing wrapped in the form of an appealing puzzle. As the name directly implies, this riveting trivia game plunges you into a world where guessing flags becomes an addictively compelling journey.
The premise of Flag Quiz is as intriguing as it is straightforward: identify flags from various countries around the globe. This seemingly simple task rapidly transforms into a fascinating challenge that tests and enhances your memory skills. Amongst other memory games, this stands out, turning what might sound like a high-school geography quiz into an enthralling adventure that keeps you coming back for more.
Every level ups the ante with lesser-known flags, challenging not only your memory but also your knowledge of world geography. The learning curve is well-paced, ensuring that players never feel overwhelmed yet remain constantly challenged. It's not just a game; it's also an educative tool that subtly enlightens you about different countries in a fun and engaging way.
In terms of gameplay mechanics, Flag Quiz is intuitive and easy to navigate, making it enjoyable for players across all age groups. Each correct answer boosts your score count, further instilling a sense of achievement and driving your competitive spirit.
To sum it up, Flag Quiz perfectly fuses elements of trivia and memory games into one captivating package. If you're in search of brain-stimulating games or simply have a knack for flags and world geography, this game is undoubtedly worth adding to your collection.
What are the best online games?