Fishing Guru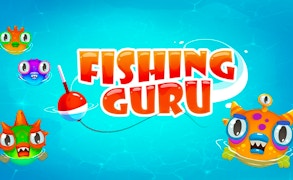 Fishing Guru
Welcome aboard our virtual fishing boat! Today we're diving into a gameplay review of the exciting, skill-sharpening, and family-friendly game: Fishing Guru. Known for its fun take on fishing games coupled with the mental challenge of word games, Fishing Guru stands out in the vast sea of educational games for kids.
Fishing Guru takes you on a relaxed journey amidst calming waters. However, don't be fooled by the tranquil atmosphere! A mob of hangry looking fish are ready to test your skills. Your mission – type words in time and prevent these aquatic beings from reaching your boat. The key is to be fast and accurate - proving yourself as a virtual Fishing Guru.
For newbie gamers or those new to word games, Fishing Guru offers an incredibly helpful basic tutorial before you start casting your net. The guide gives you all the essential tips and tricks required to master this game and start your adventure on a high note.
What sets this game apart is its feature of unlimited waves—ensuring a never-ending reservoir of fun and challenges. This makes Fishing Guru not only one of the most enjoyable fishing games around but also a standout among other word games for kids. The excitement level stays high as you bravely face wave after wave of lettered fish.
The calm theme scores big as it perfectly replicates the serene environment that real-life fishing enthusiasts crave for. It provides an escape from daily hustle, making Fishing Guru one the most relaxing educational games for kids.
So folks, grab your typing fingers and put on your thinking hats. Get ready to delve into an incredible blend of excitement and learning with Fishing Guru. Let's go fishing!
What are the best online games?