Fire City Truck Rescue Driving Simulator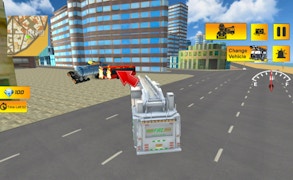 Fire City Truck Rescue Driving Simulator
Have you ever wondered what it feels like to step into the courageous shoes of a hero? The Fire City Truck Rescue Driving Simulator thrusts you right into the heart of adrenaline-pumping action, letting you be that hero. Urging you to push your boundaries as a firefighter, this strategic addition to the realm of truck games, driving games, and parking games replaces the traditional race to finish line with a race against time, saving lives and dousing fires in digital cityscape.
This game introduces an exhilarating amalgamation of two popular genres: Skill Games and Simulator Games. With an array of fire trucks at your disposal recruited for rescue missions, each operation promises heart-racing excitement. As thrilling as it is to charge through fiery scenes, this game tests and polishes your driving expertise when parking these behemoth trucks demands utmost precision.
The game throws a series of challenging rescue missions at the players that keeps them oscillating between high-intensity firefighting and razor-sharp parking skills. Each mission completed earns points that pave the way to unlocking more advanced, swifter trucks. The stakes are high, as with every progressing level, the difficulty scales up, making it a nail-biting gaming experience that keeps gamers coming back for more.
Gargantuan flames engulfing buildings and vehicles are not just visually striking but also pack a punch in terms of gameplay. The detailed graphics enhance this immersive experience further. Fire City Truck Rescue Driving Simulator fuses the intensity of racing games with intricate gameplay mechanics making it an indelible addition amongst driving simulator games.
If you cherish high stake challenges coupled with real-life rescuer experiences, then prepare your gear. Your truck is waiting in the station. Jump in and become the hero Fire City needs!
What are the best online games?