Find the Teddy Bear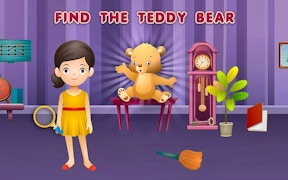 Find the Teddy Bear
Step into a magical world of enchantment and adventure with Find the Teddy Bear, an engaging and enthralling entry in the genre of hidden object games. Perfectly designed as a wholesome gaming option for children, particularly Games for Girls and Games for Kids, this riveting escape game will captivate your senses while testing your detective skills.
The premise is heartfelt and instantly relatable: A precious teddy bear has been spirited away, leaving a young girl distraught—and it's up to you to soothe her tears and retrieve her cherished playmate. As you delve into the meticulously crafted environments, each scene will unfold like a storybook page, teeming with intricate details that add depth and richness to your quest.
Find the Teddy Bear is much more than just a game—it's an immersive experience that effortlessly combines education with entertainment. Set within this cleverly drawn landscape filled with eye-catching hues and vivid graphics, gamers are encouraged to explore their surroundings in detail—training their eyes to spot hidden clues cleverly masked within plain sight.
The level of complexity gradually increases as the game progresses, creating an environment that continuously challenges and improves cognitive abilities. It is not merely an idle pastime but a vehicle for developing problem-solving skills, attention to detail, and the ability to work methodically—a triple threat combination that makes it one of the most stimulating Games for Kids.
In conclusion, if you're in search of something more than just mindless entertainment—a game that not only engages but also educates—then look no further than Find the Teddy Bear. It is a heart-warming tale blended seamlessly with challenging gameplay that ensures hours of fun. Not only does it top our list of recommended hidden object games, but it's also an ideal pick in the category of Games for Girls.
What are the best online games?