Find The Number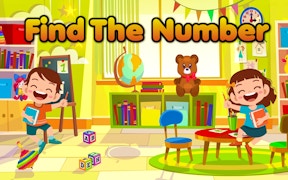 Find The Number
Description
Immerse yourself in the playful world of Find The Number. This interactive game engages children in a thrilling hunt for numbers. The game presents numerical prompts, piquing curiosity and stimulating their minds. Test your speed and accuracy in the exciting timer mode. A fun pastime with an educational twist, it enhances cognitive abilities while providing endless entertainment.
How to Play
The game begins with a simple instruction of a number to find. Navigate through the game to locate this number. Be quick, as time is ticking away in the stimulating timer mode! Progress through increasingly challenging levels, sharpening number recognition skills. Share your scores and enjoy friendly competition with your friends.
Tips and Tricks
To achieve high scores, focus on remembering number sequences and locations. Always keep an eye on the timer as you navigate through levels. Experiment with different strategies, like finding numbers in a particular order or pattern. Try completing earlier levels perfectly to boost your confidence for more challenging ones.
Features
Interactive learning: Blends education and entertainment seamlessly.
Timer mode: Adds a twist of thrill to stimulate quick thinking.
Different levels: Provides varying degrees of challenges suited for different ages.
Friendly competition: Lets you compare scores with friends for added fun.
What are the best online games?
Tags