Find the Missing Letter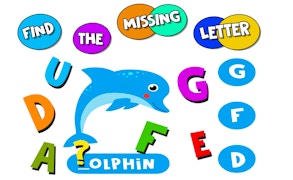 Find the Missing Letter
Description
Find the Missing Letter is an amusing and educational game designed to enhance children's letter recognition skills. The game revolves around the simple task of choosing the right letter to fill in a missing spot. The fun part is each correct answer is accompanied by adorable animations and high-resolution images sure to delight any child. It's both engaging and effective at reinforcing alphabet learning.
How to play
The mechanics are uncomplicated, making it perfect for kids. Simply touch one of the three letters displayed on the screen and drag it over to the blank space. Release your finger to drop the letter into position. If it's correct, a bonus message pops up, else an error message indicates an incorrect choice. You continue learning without any game-over scenarios.
Tips and Tricks
To make this game even more educational, parents can encourage their children to say the letter out loud as they place it in its correct spot. Also, discuss with them about the object shown in high-resolution images, enhancing their vocabulary along with their letter skills.
Features
Cute graphics and cheerful sound effects create an entertaining play environment.
No losing scenarios, promoting a stress-free learning experience.
An intuitive gameplay that requires just one touch.
A library of over 60 objects keeps gameplay interesting and varied.
What are the best online games?