Find The Fish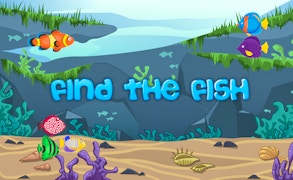 Find The Fish
Description
Dive deep into an underwater adventure with Find The Fish. This captivating game transports players beneath the ocean's surface to discover a myriad of hidden fish. Your goal is to spot as many fish as possible and accumulate a high score. Whether you're looking for a leisurely experience or intense competition among friends, you'll find it here!
How to Play
The game is simple to grasp yet deeply engrossing. Players navigate the underwater environment using their mouse or trackpad, keeping their eyes peeled for any hint of aquatic life. The more fish you find, the higher your score. But be aware of the fun mode - there's no timer, so take your time and enjoy the aquatic wonders!
Tips and Tricks
In Find The Fish, keen observation and quick reflexes are key. Pay close attention to subtle movements or changes in color - these can indicate hidden fish. Remember: some fish might be well-camouflaged amongst the underwater flora, so inspect every corner carefully.
Features
Friendly competition: Play against friends and see who can achieve the highest score.
Fun mode: Enjoy a relaxed gameplay experience with no time limit.
Mesmerizing graphics: Beautiful, immersive underwater environments that captivate and entertain.
Intriguing variety of fish: Discover different species from around the world during your underwater exploration.
What are the best online games?