Fierce Shot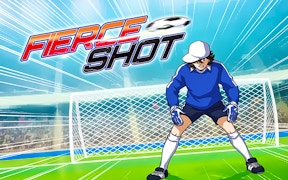 Fierce Shot
Immerse yourself in the thrilling world of ball games and football games with the exciting title known as Fierce Shot. A unique blend of football and manga, this game offers an unparalleled gaming experience that takes soccer games to a whole new level.
The moment you step into the mesmerizing universe of Fierce Shot, you're signing up for a riveting journey. Starting as a rookie, you have to conquer the Continental and International Cups through a series of challenging matches. But remember, the road to becoming the best isn't as easy as it sounds; it requires skill, strategy, and relentless practice.
In this thrilling soccer simulator game, you'll keep honing your skills through endless mode training. Every shot you make will test your precision, strength, and agility. The management aspect gives you control over your career progression - assess your performance after each match, devise strategies for improvement, modify training routines... it's all in your hands!
Fierce Shot is more than just a game - it's a meticulous simulator game. From controlling the ball's trajectory to adjusting its speed and timing your hits... every detail matters. The stunningly realistic graphics coupled with engaging gameplay mechanics make Fierce Shot an ideal choice for sports simulator enthusiasts.
This enthralling journey from being a novice to becoming a global sensation isn't just about winning matches; it's about being passionate about football games, embracing failures and learning from them, evolving skills through rigorous practice sessions, and above all – having unwavering determination to become THE BEST IN THE WORLD.
If you love soccer or if you're on the hunt for gripping soccer games, then Fierce Shot is definitely worth checking out! Get ready for an exciting football escapade packed with intense matches, strategic plays, skill enhancements – everything that defines an elite footballer's journey.
What are the best online games?