Feed the Ape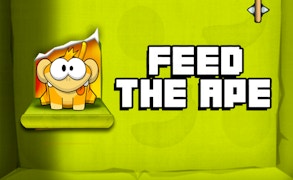 Feed the Ape
Description
In Feed the Ape, your task is to satiate a hungry ape by getting the Num Num, a delightful treat, to its rightful owner! However, achieving this is not straightforward as various hurdles will test your analytical skills. The ape's happiness hangs in the balance and it's all up to you! With vibrant graphics and interesting mechanics, this game offers an entertaining blend of fun and challenge for both kids and adults.
How to play
The gameplay of Feed the Ape centers around cutting ropes strategically and navigating obstacles in order to guide the Num Num to the ape. Starting levels provide a supportive learning curve, enabling you to gradually master necessary skills. Remember, a starving ape awaits your successful moves!
Tips and Tricks
To excel at Feed the Ape, pay keen attention to timing while cutting ropes as early or late cuts can lead to unsuccessful attempts. Analyze each level extensively before making your first move. Most importantly, enjoy every moment of problem-solving!
Features
Vibrant graphics providing visually engaging experiences.
An interesting blend of fun and strategic gameplay.
Educational value via promoting problem-solving skills.
Suitable for both kids and adults for comprehensive fun.
Progressive difficulty levels testing players' analytical abilities.
What are the best online games?