Fast Pizza Delivery Game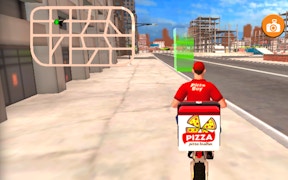 Fast Pizza Delivery Game
Get ready to rev up your engines with the Fast Pizza Delivery Game, an innovative fusion of motorcycle games, dirt bike games, and simulator games that puts you in the driver's seat of a pizza delivery business.
This game takes the adrenalin rush of a typical racing game and throws in a unique twist. Instead of racing against other bikers, your mission is to deliver pizzas to hungry customers, maneuvering through traffic and obstacles as you race against the clock. It's a fresh and mouth-watering concept that offers a savory blend of excitement, strategy, and speed.
In Fast Pizza Delivery Game, you're not only responsible for weaving through city streets on your pizzeria cargo bike, but also for parking in destined areas — adding an interesting layer of complexity reminiscent of popular parking games. Once your moto is parked, take control of the pizza delivery boy to navigate on foot and deliver customer's orders.
The game stands out by replically realistically the rush of being a delivery driver in a bustling metropolis. Navigating traffic, rushing against time, and keeping customers satisfied make for thrilling gameplay that keeps you on your toes. Each successful delivery feels like crossing the finish line in exhilarating dirt bike games.
If you love heart-racing motorcycle games or enjoy stepping into someone else's shoes with immersive simulator games, Fast Pizza Delivery Game will surely satiate your gaming appetite. Its unique combination of tense driving sequences with fast-paced delivery challenges makes this game an addictive play for lovers of motorcycle or driving games.
The road is clear, the engine is revving — are you ready to deliver?
What are the best online games?