Fast Furious Skyline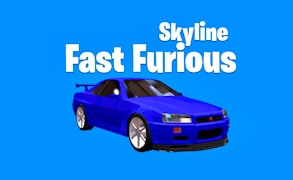 Fast Furious Skyline
Description
Immerse yourself in the thrilling world of Fast Furious Skyline. This adrenaline-fueled survival game puts you behind the wheel of a top-of-the-line skyline car. In this fast-paced racing challenge, you're tasked with conquering two unique survival games, while amassing points to secure your rank and earn distinctive hats. Legendary headgear is waiting to crown you - all you have to do is prove your worth on the racetrack!
How to play
The controls are simple and easy to master. Use the Arrow Keys or Space Button for desktop gaming. If you're playing on a mobile device, just use the touch control function on your screen. The more races you win, the higher your score and rank will be - so keep pushing that accelerator!
Tips and Tricks
Speed is vital but remember that survival is key. Avoiding obstacles can be just as important as achieving top speed. Choose your routes wisely for an optimal gaming experience in this thrilling pick from racing games.
Features
A top-notch skyline car to drive.
Intriguing dual survival games involving intense racing.
A rewarding rank-based system with distinctive hats as prizes.
User-friendly controls suited for both desktop and mobile gamers.
What are the best online games?