Fast Finders IO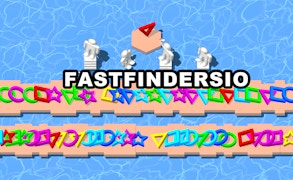 Fast Finders IO
Description
In the thrilling world of Fast Finders IO, players are pitted against each other in a race to find specified colored shapes on the screen. This exhilarating game of quick reflexes and sharp vision will test your observational skills to the limit. The faster you find, the higher the score you accumulate.
How to Play
Players on Fast Finders IO scan a screen full of different colored shapes, searching for a specific object. When the game provides a prompt, such as "Find Red Square", players must quickly click on the correct shape. Each successful find rewards points but remember, speed is the key in this game.
Tips and Tricks
Don't let your eyes wander all over the screen. Focus on sections at a time and gradually survey other areas as you get more adept at identifying shapes quickly. Remember, every second matters and staying calm under pressure is crucial for success.
Features
Competitive gameplay: Race against other players online to prove your superiority.
Skill Test: A mind-bending exercise that assesses quick reflexes and keen observation skills.
Addictive: The fast-paced nature of this game makes it highly engaging and addictive.
User-Friendly: Simple controls make it easy for anyone to play.
What are the best online games?