Fairy Pony Caring Adventure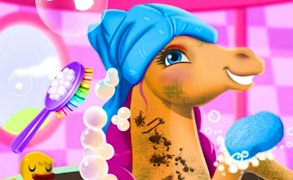 Fairy Pony Caring Adventure
Leap into the enchanting world of the Fairy Pony Caring Adventure, a delightful entrant in the realm of Games for Girls and Games for Kids. Catering to the fascination of young gamers with animal friends, this game transcends the traditional boundaries of Animal Games, offering an immersive and educational environment.
The heartwarming tale revolves around a Fairy Princess who entrusts her darling unicorns, colts, and pony family to an idyllic horse farm. A unique juxtaposition of simple farming activities and engaging adventures waiting to discover at every corner of the farm. The game beautifully amalgamates elements of pony breeding, exhilarating dashes, idyllic park experiences, and even a rainbow hair salon.
Dive into the wild farm scary challenges which aren't just exciting but deeply educational too, making it one of the most sought after Educational Games. And, it isn't merely about having fun; this bewitching pony beauty adventure paves the way for players to learn and understand more about animals' needs, caring routines, health care essentials and even some cool styling!
So whether you're brushing their dazzling manes in the salon or racing across lush fields, every activity in Fairy Pony Caring Adventure is designed to test your skills while maintaining an air of lighthearted enjoyment. It's not just a game but an interactive journey that fosters love for animals while teaching valuable life lessons.
Fun-filled yet insightful, delightful yet instructive - Fairy Pony Caring Adventure has it all. It truly embodies what games for children should be - engaging playtimes packed with meaningful substance. A must-try for lovers of animal games - You won't regret entering this world brimming with ponies prancing around in rainbow hues!
What are the best online games?