Extreme Cycling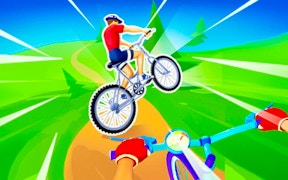 Extreme Cycling
Unleash your inner daredevil with Extreme Cycling, a game that undoubtedly sets new standards in the realm of motorcycle games. The title takes racing to unprecedented heights, transporting you from your comfort zones straight into the heart-pounding thrills of off-road ventures.
The game's captivating visuals take you through an exhilarating ride across diverse terrains. Each backdrop, from the icy chills of snow-capped mountains to the arid dunes of sunny deserts, is cunningly designed to test your limits and provide a sensory overload.
But Extreme Cycling isn't just about stunning landscapes; it's a tribute to all hardcore dirt bike games aficionados seeking an adrenaline rush. Whether you're a seasoned rider or a beginner, this member of the driving games family offers numerous challenges that will keep you on the edge of your seat.
The true beauty of this game lies in its progressive upgrade system. Every ride yields rewards that you can invest in bike upgrades and unlock unique modifications, pushing your biking skills up a notch with each enhancement. By marrying elements of Skill Games with intense motorbike action, Extreme Cycling offers unparallel levels of engagement and replayability.
In conclusion, Extreme Cycling takes a bold leap forward in motorbike gaming by combining hair-raising racing with an intriguing upgrade system. Its vivid landscapes and fluid dynamics make it more than just another dirt bike game – it's a full-throttle experience that will leave speed lovers yearning for more.
If you're looking for an immersive motorcycle game with skillful driving and strategic upgrades, don't let Extreme Cycling pass you by. And remember: life's too short for traffic – blaze your own trail instead!
What are the best online games?