Extreme Bike Driving 3D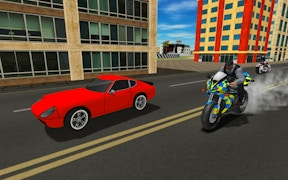 Extreme Bike Driving 3D
Get ready to be thrilled and challenged like never before, Extreme Bike Driving 3D is not just another game in the list of common motorcycle games. This captivating and exciting game is setting new standards for dirt bike games and bringing an electrifying mix of speed, skill, and challenge.
The premise of Extreme Bike Driving 3D is as simple as it is captivating – unlock fast bikes, conquer the city littered with scattered bucks, and prove your prowess as a driving pro. However, underneath this simple premise lies a driving game that pushes your adrenaline to its limits and challenges your skills on every turn.
This isn't just another one of those regular driving games that you can play casually on a lazy Sunday afternoon. No! It's a testament to your rider spirit, a challenge to your mettle and skill. It dares you to venture off-road on dangerous tracks, testing your agility in ways never before seen in skill games.
In the world of Extreme Bike Driving 3D, the city isn't just a backdrop - it's an intricate labyrinth of hidden alleys filled with illustrious bucks waiting for you to discover them. Prepare yourself for an immersive adventure in stunning 3D, adjusted helmet tight and saddle up your high-speed bike for an exhilarating experience.
In conclusion, Extreme Bike Driving 3D is more than just racing; it's about mastering the controls of your bike in diverse environments, overcoming challenging terrains with skillful stunts, and exploring sprawling cities at breakneck speeds. If you're looking for something more than just another racing game – this could well be it! An adrenaline pumping thrill ride from start to finish! Dive into the world of extreme biking today!
What are the best online games?