Extreme Asphalt Car Racing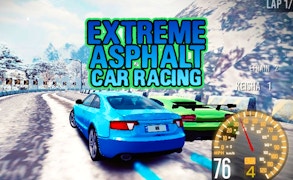 Extreme Asphalt Car Racing
Get ready to take a ride on the wild side with Extreme Asphalt Car Racing, one of the most adrenaline-pumping driving games available now. This thrilling game is not your ordinary racing game; it takes you beyond traditional car games into a skill-testing, speed-enhancing racing experience.
The game's standout feature is its emphasis on drifting. Anyone with a penchant for drifting games will find Extreme Asphalt Car Racing a dream come true as it allows you to scorch the track in distinctive ways as you test your drifting skills against challenging terrains.
The fantastic variety of customizable cars lets you express your unique style. From rims and stickers to a spectrum of colours, you can personalize your racing machine down to minute details, ensuring that no two cars look alike in this exciting world of high-octane car racing.
The game prides itself on its realistic physics, making for an exhilarating experience that challenges your driving skills at every turn. Every spin, drift and high-speed straightaway feels lifelike, thanks to this meticulously designed physics engine.
In addition to its unrivalled gameplay, Extreme Asphalt Car Racing also scores highly in the graphics department with its unusual visual effects and voiceovers. It also features an engaging progression system, where players can earn money through races and use them to buy special cars or further upgrade their current ones.
In summary, Extreme Asphalt Car Racing is the ideal mix of fun and realism that caters to both casual gamers and hardcore motorheads alike. So strap in, rev up those engines, and let's burn some rubber!
What are the best online games?