Euro School Driving Coach 3D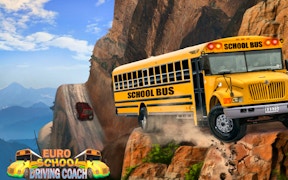 Euro School Driving Coach 3D
Step into the immersive world of Euro School Driving Coach 3D, a thoroughly engaging addition to the genre of racing games. This game is more than just about speed; it's a delightful fusion of truck games, driving games, and parking games, morphed into an adrenaline-pumping bus simulator.
Right from the get-go, Euro School Driving Coach 3D establishes itself as one of the top-tier simulator games. Playing as an experienced bus driver navigating tortuous hilly routes, you'll find yourself not only racing against time but also battling varying elements. Be it a thunderstorm, rain, or snow, the game brings the elements to life in stunning 3D detail making every drive a challenging yet rewarding experience.
The hurdles are mighty, but so is the satisfaction of ensuring that students reach home safely and on time. The level design is intricate and realistic, adding depth to your journey through different weather conditions. Your pulse quickens as you finesse your driving skills around tight corners or downhill during white-out conditions.
Euro School Driving Coach 3D seamlessly integrates the excitement of traditional racing games with the precision required in parking and driving games. It's not just about speed; the game challenges you in managing your vehicle's size and understanding its dynamics under different circumstances. The gameplay is nuanced and layered, making every second behind the wheel feel visceral and engaging.
If you're a fan of truck, parking, or driving simulator games, then Euro School Driving Coach 3D deserves your keen attention. With its unique approach to blending genres and delivering a thrilling gaming experience, it sets new standards for what racing simulation can be. Will you rise up to the challenge?
What are the best online games?