Euro Penalty 2016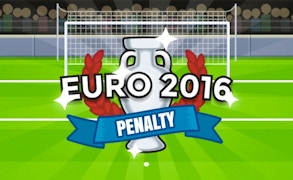 Euro Penalty 2016
Immerse yourself in the exhilarating world of football with Euro Penalty 2016, the dynamic and addictive addition to the realm of soccer games. This game takes you on an exhilarating journey that puts you in the shoes of Europe's top-notch players, challenging your reflexes and football prowess along the way.
Not just another game in the overstuffed market of football games, Euro Penalty 2016 stands out with its realistic graphics, intuitive gameplay, and phenomenal tension that mirrors the atmosphere of a real European penalty shootout. The adrenaline rush, the roar of the crowd - it is all there.
As a player, you are given total control to select your favorite team from an array of options. Once done, buckle up to showcase your skills both as a striker and a goalkeeper. The game intensifies as you kick your way through thrilling penalty shootouts, matching your wits against other seasoned gamers right up to nerve-wracking finals.
The game's striking feature is its balanced blend of challenge and accessibility. It motivates beginners with its easy-to-handle controls while ensuring sufficient challenge for seasoned players to keep them hooked. When playing Euro Penalty 2016, you're not just playing a game; you're living the dream of facing against Europe's soccer elite for that coveted trophy.
In conclusion, if you're looking for soccer games that deliver on their promise of excitement, competition, and true-to-life football action, look no further than Euro Penalty 2016. Strap on those virtual boots and brace yourself for some heart-thumping football drama!
What are the best online games?