Euro Cargo Transporter Truck Driver Simulator 2019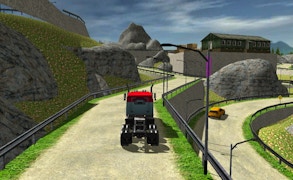 Euro Cargo Transporter Truck Driver Simulator 2019
Rev your engines, racing game enthusiasts, as we dive into the world of Euro Cargo Transporter Truck Driver Simulator 2019, a real standout in the realm of truck games. Combining elements of thrilling car games, challenging parking games, and simulation-based simulator games, this title offers an adrenaline-fueled experience to even the most seasoned gamers.
No ordinary driving game, Euro Cargo Transporter Truck Driver Simulator 2019 puts you in the hot seat of oversized cargo trucks. As a cargo transporter, you're tasked with delivering goods across vast landscapes and through bustling cities. The goal? To get there in record time without losing your precious load. Your driving prowess is tested to its limits here, making it a thrilling addition to your collection of< b>driving games.
The magic truly lies in the beautifully rendered environments and the realistic physics that govern each truck's movements. The game's authenticity is unparalleled – it feels just like manning a real-life oversized truck, only without the actual sweat and exhaustion. The obstacles you face - from gnarly off-road terrain to labyrinthine city parking puzzles- ensure that there's never a dull moment.
Euro Cargo Transporter Truck Driver Simulator 2019 does not only test your driving skills but also puts management skills into play. You become a crucial part of the public transportation system, creating an intricate balance between speed and caution.
To sum up, this game is an impressive blend of action-packed racing and strategic driving simulation. If you are a fan of truck games or simulator games, add Euro Cargo Transporter Truck Driver Simulator 2019 to your must-play list – it's one hell of a ride!
What are the best online games?