Euro 2016: Goal Rush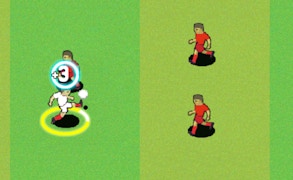 Euro 2016: Goal Rush
Are you in the hunt for an unparalleled football experience that brings the spirit of international competition to your screens? Euro 2016: Goal Rush, a premium addition to online soccer games, promises just that. As the game that redefines excitement and fervor in the world of **ball games**, it's a force to be reckoned with.
The electrifying ambiance of a live match, the adrenaline rush as you select your favorite team, and the strategic maneuvers needed to pass the ball from player to player and shoot - Euro 2016: Goal Rush has it all. A unique gameplay offers a celebratory tribute to fans of football games, whether seasoned or new.
Euro 2016: Goal Rush
puts you right on the field, demanding not only your keen attention but also agility and quick reactions. The thrill begins with picking your dream team – a pivotal step that requires consideration of each team's strengths and potential tactics.
Once on the field, it's not just about scoring goals. You need strategy, precision, and timing as you carefully plan each pass and make sure none of your opponents intercepts. The game brilliantly weaves in tactical elements that make it more than just another soccer game – it's an experience fuelled by passion and tactics.
In conclusion, Euro 2016: Goal Rush is a triumphant milestone in the realm of soccer games. It's not just about winning; it's about how well you can handle pressure, strategize your moves, perfect your passes, and seize victory in true soccer spirit!
What are the best online games?