English Grammar Jul Quiz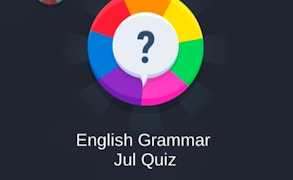 English Grammar Jul Quiz
Unleashing your inner wordsmith and testing your knowledge of the English language, English Grammar Jul Quiz beckons you to a world where trivia games meet word games, intertwined with brain games for an unrivaled gaming experience.
This wittily crafted game redefines the good-old 'pen and paper' trivia quizzes, bringing them right into the palm of your hand. From casual gamers seeking a quick brain teaser to hardcore puzzle solvers demanding a head-spinning challenge, English Grammar Jul Quiz has something for everyone, guaranteed to keep you engaged with its 3 levels of difficulty.
The vibrant design of this interactive word game discreetly masks its inherent complexity, making it an intriguing platform for everyone keen on sharpening their interrogatory skills. This unique concoction of trivia and word games flawlessly combines aspects of both genres into one delightful package.
Sporting a high-octane scoring system that unleashes a potent sense of competition, English Grammar Jul Quiz keeps you on the edge of your seat as you wrestle with each question, driven by the desire to climb up the leaderboard. The inclusion of brain games in this package not only tests your agility but also stimulates your cognitive abilities in an entertaining setup.
In conclusion, whether you're an ardent fan of puzzle games or just seeking a thrilling pastime to challenge your English language prowess, English Grammar Jul Quiz is your go-to game. It's more than just a quiz game; it's a portal that whisks you away into an exhilarating journey where words and trivia choreograph an entrancing dance of intellect.
In this rollercoaster ride of suspense and euphoria, only one question remains: Are you ready?
What are the best online games?