Endless Truck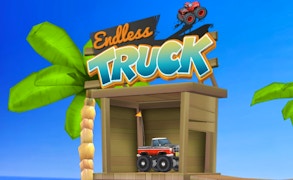 Endless Truck
Prepare to be fully enthralled with the exhilarating and adrenaline-pumping world of Endless Truck, one of the most invigorating and dynamic entries in the realm of driving games. Push the pedal to the metal, grip your steering wheel, and get ready for an electrifying ride in this outstanding exemplar of high-octane car games.
Right from the word go, Endless Truck ups the ante in terms of thrill factor. Forget about traditional racing games – this is not a game that will have you merely cruising around a racetrack. Instead, you'll be catapulted straight into a world where every moment is packed with fast-paced action, rampaging excitement and neck-breaking speed as you perform gravity-defying stunts on death-defying race tracks.
Elevating itself above standard truck games, Endless Truck masterfully incorporates stunt mechanics into its gameplay. The trucks themselves are no less than monstrous beasts ready to conquer any obstacles, jerkily pivoting over precarious ramps and risking spectacular flips for your gaming pleasure. You don't just drive in this game - you perform stupefying feats worthy of a grand spectacle.
Beyond these compelling characteristics, however, lies a game that is straightforward to grasp but fiendishly hard to master. It doesn't merely require quick thumbs; it demands strategic thinking too. How far can you push your truck without toppling over? When is the perfect moment to execute that daring leap or daring flip? These questions form part of a fascinating metagame that adds an additional layer of depth.
In conclusion, if you are a lover of racing games, Endless Truck is an exhilarating ride through crazy stunts and endless tracks that no gamer should miss. It's high-speed fun at its finest – so get ready to rev those engines and let loose!
What are the best online games?