Empire Tower Defense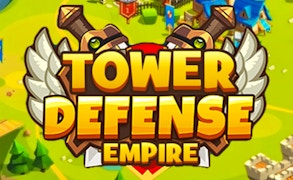 Empire Tower Defense
Welcome to the enchanting world of Empire Tower Defense, a mesmerizing entry in the genre of strategy-based sword games, archery games, and battle games. This game seamlessly blends thrilling war tactics with intuitive management simulation.
The game catapults you into a realm where your wits are your most potent weapon. As the fearless leader, you manage an array of archers delegated with the unyielding task of keeping your castle safe from unrelenting monsters. The game's gist is nestled within its strategic depth, giving Empire Tower Defense a firm standing among exemplary war games.
The game intricately weaves elements from contributing genres, creating an unmatched environment for both strategy and action enthusiasts. As a player, you are tested at every juncture - how you manage resources, deploy archers, upgrade your weaponry and design your defenses. This facet makes it rise above conventional management games.
Enjoy the thrill of launching arrows towards menacing monsters on the battlefield while maintaining the balance of your troops and resources. Empire Tower Defense brings you an exciting twist to classic tower defense mechanisms with its innovative gameplay features.
From sharpening your swords to focusing on archery skills, there's always a plan to devise or a tactic to implement in this thrilling war game. Empire Tower Defense is beautifully crafted with crisp graphics, intricate detailing on characters, and captivating environments that keeps you glued to screens for hours.
If you're an enthusiast of sword games, archery games or simply an ardent lover of innovative battle games that challenge your strategic skills, look no further than Empire Tower Defense! Dive in and become the architect of your own empire!
What are the best online games?