Emoji Limax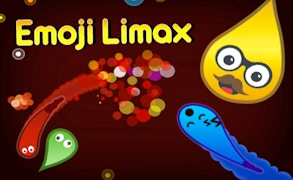 Emoji Limax
Immerse yourself in the unique, survival-based snake game, the one and only Emoji Limax. Embellishing the traditional Limax.io gameplay with a vivacious emoji interface, this game not only tests your strategic prowess but also serves a delightful visual treat. The objective here, as always, is to survive and grow bigger by eliminating your opponents in an emoticon-shaped universe.
The game's simplified mechanics are instantly appealing to fans of survival games. Tap on your screen to trigger a speed boost, cleverly using it as bait to make others crash into your trail, thereby causing their euphoric downfall. The thrill truly lies in avoiding others' trails while leading them to their ultimate demise.
Emoji Limax amps up the traditional snake game concept with a refreshing twist - an enthusiastic emoji interface. Each player embarks on their journey as small, novice emoji snakes - vulnerable yet ambitious. As you navigate through this perilous environment and eliminate other snakes, you grow both in size and power.
A key part of this game's charm lies in its precise balance between risk and reward. With every enemy snake you vanquish, there's always the looming danger of colliding into another player's trail. It's a high-stakes gambit that keeps players on edge.
In sum, Emoji Limax is not just another addition to the realm of snake games. It raises the bar by integrating elements of survival gameplay into its core mechanics. Its enticing blend of strategy and action has something for everyone: whether you're looking for a light-hearted distraction or an engrossing competition for supremacy where only the smartest survive.
What are the best online games?